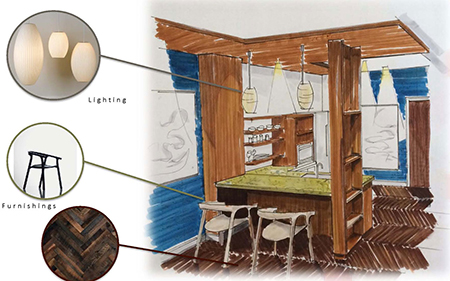 Design by Michael Camara
With the foundational classes of Drawing, Design and Applied Color, the Interior Design Certificate Program equips students with the skills and knowledge needed to create and implement all phases of an interior design. Courses address the creative aspects of the field as students develop the discipline and organizational skills that are the foundation of a successful business. Color, texture, light and the inherent characteristics of materials interact to convey the language of design together with such functional concerns as structural and space planning. This program addresses the importance of collaboration, communication, critical thought, discipline, ethics and organizational skills. Upon completion, students will be prepared to pursue a variety of interior design careers. Note: This non-credit program does not satisfy NCIDQ or ASID eligibility requirements.
Skill Development
Space planning
Materials and finishes
Furnishings and accessories
Lighting
Color sensibility
Drafting and rendering (hand and digital)
Learning Outcomes
Understand the core principles of scale, proportion, light, circulation and delineation of interior spaces
Differentiate between the requirements and approach to residential vs commercial interior design projects
Gain fundamental comfort in hand drawing, perspective and using CAD software to create 2D and 3D depictions of interior spaces, including aesthetic, structural, electrical, media and HVAC systems
Learn about the characteristics of various materials, lighting and furnishings and how they are used to communicate design solutions with regards to their color, texture, pattern, style and harmony with one another
Build organizational and project management skills to properly estimate costs, time, profit and keep vendors and all other aspects of an interior design assignment on track
Communicate a design plan in artistic and verbal presentation formats
Understand how to build a portfolio for potential career opportunities in both residential or commercial interior design, theatre/set design, interior decorating, staging (for real estate)
Program Cost
$9,140 total
Current tuition rates; subject to change over the course of your program. Supplies, software subscription fees and other materials are not included.
Additional Information
Certificate Guide and Cost Breakdown (pdf)