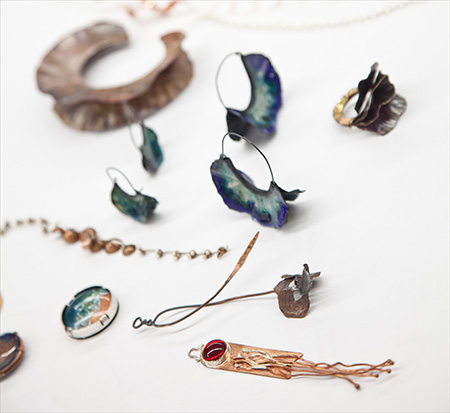 This certificate program is not accepting new enrollments.
Jewelry and light metals play a significant role in the increasingly diversified market for accessories and wearables. Combining technical skills with creative and conceptual thinking, the Jewelry and Light Metals certificate provides a solid introduction to and foundation for designing and making jewelry, wearables and accessories. The certificate core introduces students to critical skills of drawing, rendering, design and color in preparation for working three dimensionally. Through subsequent and sequential learning assignments, students are introduced to jewelry and light metals studio practices, essential techniques and working with a variety of metals and materials. Students make portfolio-ready work, providing a strong platform for industry based internships, small business development, setting up personal studios or continuing their education.
Skill Development:
Drawing, rendering, design and color theory and its applications
Materials and techniques
Processes and practices
3D modeling skills using Rhino
Conceptual thinking and problem solving skills
Outcomes:
Ability to design and make jewelry, wearables and light metal objects
Ability to work with a variety of materials including non-precious and precious metal
Effective use of techniques of sawing, piercing, annealing, soldering, texturing, ring sizing, hinge making, complicated scoring, bending and other fabrication methods
Learn jewelry construction methods including hollow form, cold connections, wire and chain making
How to make a wearable piece of art from initial conception to finished realization
Understand how to build a portfolio towards career opportunities in the jewelry and light metals marketplace, working as a staff jeweler for an existing jewelry business, selling jewelry in trade and craft shows, working towards building a portfolio, setting up a personal jewelry studio as a small business.
Jewelry and Light Metals Certificate Program Guide (pdf)