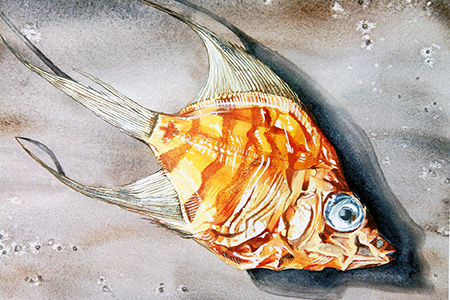 Illustration by Mollie Stone
Natural science illustrators accurately translate and communicate subject matter to inform and educate about the natural world. This certificate equips students with the necessary skills to document and detail that world – strong visual acuity; precise hand coordination and natural subject empathy and knowledge. Students explore various media and techniques including pencil, acrylic, watercolor, gouache and oil to discover their individual style; and composition and color strategies enable students to fully interpret, capture and portray subjects including birds, animals, botanicals, etc. in natural environments. The program utilizes RISD's unique facilities including the Edna Lawrence Nature Lab as well as site/field visits to the Roger Williams Park Museum of Natural History, Zoo and Greenhouse. Students progress towards creating portfolio-ready pieces of natural science subjects for the purpose of professional presentation and potential publication.
Certificate Guide and Cost Breakdown (pdf)
Skill Development
Drawing, rendering, design, color theory and its applications
Hand-eye coordination and drawing realistically from observation (rather than photo reference)
Media handling proficiency including pencil, ink and paint (acrylic, gouache and watercolor)
Understanding of strong composition
Portrayal of subjects in natural habitats
Learning Outcomes
Learn fundamentals of design and color as they relate to Natural Science Illustration subjects and environments
Gain problem-solving skills by conceptualizing, planning and executing an illustration, from preliminary drawing to final product
Learn how to fully observe, interpret, research and portray subjects including birds, animals, insects, specimens and botanicals in their natural habitats
Receive an introduction to, and familiarity with, Adobe software methods to enhance imagery – both of individual artwork and reference materials
Understand how to build a portfolio toward career opportunities including commissions, working with a scientist or a scientific organization, and working as an independent illustrator
Program Cost
$9,460 total
Current tuition rates; subject to change over the course of your program. Supplies, software subscription fees and other materials are not included.