1879
-
Surface Pattern Design: From Concept to Market
1028077
Course Description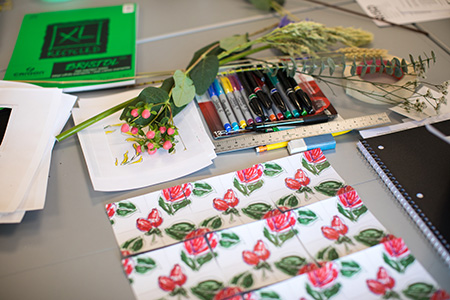 The surface design industry can be a daunting place for a newcomer. This course will help guide you by revealing the basics of a successful surface design collection, and by providing an introduction to how a designer can monetize their artwork. Digital lessons focus on how to choose marketable inspiration, and how to create eye-pleasing repeats and killer colorways. Students will learn how to prepare original designs for the marketplace by developing professional presentation techniques and self-promotion practices. They also receive instruction about various printing processes and how to create artwork that is industry ready. Reading assignments will open students' eyes to the possibilities of selling and licensing their work, while laying the foundation for a new revenue stream. Successful students will complete the course with several marketable artwork collections and a better understanding of where their work fits into the industry.
This course is a perfect next step after Surface Pattern Design: Introduction.
Prior experience with Photoshop and Illustrator is preferred but not required.
Prerequisites
Students must be an adult age 18 or older to participate.
Instructors
Applies Towards the Following Certificates
Enroll Now - Select a section to enroll in
Required fields are indicated by .