1787
-
Fashion Illustration: Introduction
1028343
Course Description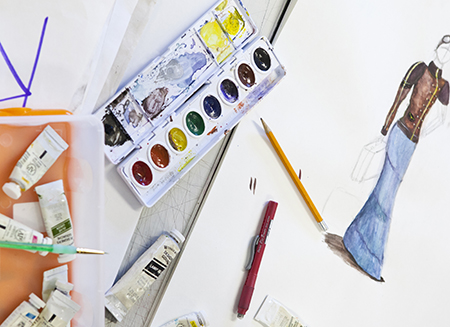 Realizing fashion ideas usually starts with strong fashion drawing skills. Students in this course are introduced to the croquis, the nine head fashion figure, as a foundational tool for designing. Working from observation, class begins with gesture drawings of models as students learn to capture the movement and direction of both the figure and clothing. Focus is on how to represent the fabric and draping based on how a garment hangs on the body, while suggesting the form underneath. Attention is paid to proportions and scale while capturing the essentials of drawing faces and other details. Students also learn to express attitude by drawing their own fashion. Flat sketching techniques to incorporate garment construction details, including front and back views, are introduced. Mood boards help students to convey concepts, color stories and themes for individual collections, as well as identify strands of interest. Use of a sketchbook to explore fashion style and point of view, as well as exploration of different media, is encouraged.
Prerequisites
Students must be an adult age 18 or older to participate.
Applies Towards the Following Certificates
Required fields are indicated by .