2627
-
Final Studio: Painting Studies
1029041
Course Description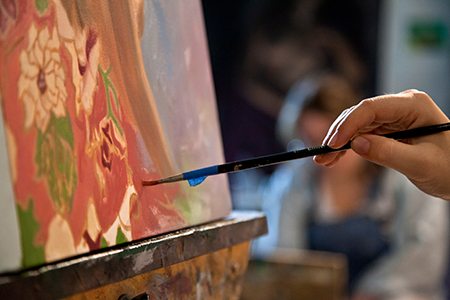 The final studio is an opportunity for students to pursue and develop independent projects in painting. The course aims to develop and shape a self-sustaining critical discourse around each student's emergent painting practice, as they gain the confidence to paint on their own, become self-directed and work independently as artists. A variety of critical frameworks are introduced that help to frame the social and historical precedents for your work, supporting you as you learn to situate your practice in context. You will conduct research and design presentations on specific subjects pertaining to painting and its layered histories. The ultimate goal is to create and complete a body of work -- working in a series or sequentially -- that speaks to the objectives and content of your personal visual language and ideas. Choice of subject matter and medium are decided by the student. During the first meeting, students formulate the direction of their work. Regular group critiques take place every two weeks and serve to enhance the scope of dialogue forming around each student's work.
Special Schedule: Class meets over the course of the 12-week term, with meetings established by the instructor. Students also work independently between class meetings. A final individual portfolio review is included at the end of the semester and will be scheduled with your instructor.
Prerequisites
Students must be an adult age 18 or older to participate.
Applies Towards the Following Certificates
Required fields are indicated by .