1417
-
3D Modeling for Digital Fabrication: Introduction
1029135
Course Description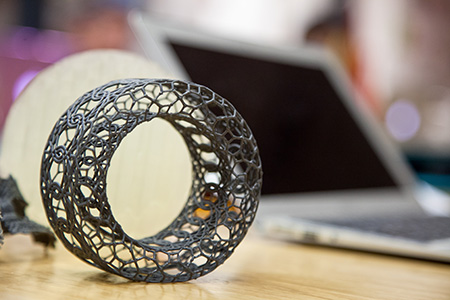 Purposefully accessible, this course avoids the usual digital prerequisites of advanced 3D modeling skills by focusing on workflow through less intimidating 3D scanning approaches and the use of open-source 3D files. Only basic Rhino 3D modeling overviews will be given through tutorials; however, more in-depth support will be offered according to individual student interest through tutorials, and individual and group meetings on Zoom. The course begins with an overview of digital fabrication processes and their potential applications to all fields of art and design. Following this, students are supported in developing individual projects primarily utilizing Rhino 6 and FDM (fusion deposition modeling) and SLA (stereolithography) 3D printing. Other potential modes of creating content are introduced as student interests dictate: graphics, rendering and basic animation. In line with RISD's interdisciplinary culture, the course is structured to integrate all individual creative practices and has applications to fashion, textiles, jewelry, product and industrial design, as well as sculpture and painting.
Prerequisites
Students must be an adult age 18 or older to participate.
Instructors
Applies Towards the Following Certificates
Enroll Now - Select a section to enroll in
Required fields are indicated by .