3759
-
Cryptozooerrific
1029143
Course Description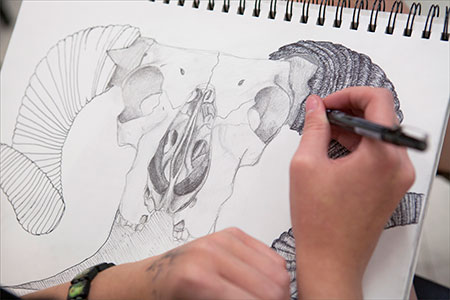 Deep in the blackness of the ocean trenches lies a monstrous creature that sailors report can sink a ship with its writhing tentacles. A continent away is another strange beast that native Tibetans claim hunts the snowy crags of the Himalayas. As different as the Giant Squid and the Yeti are, both are united by their reluctance to be seen and examined by human eyes. In this course, students step into the role of cryptozoologist as they unleash their imaginations while learning about animal design, size and shape. In this course, students will learn to find their own reference, and make their own mythical creatures based on the animals they have discovered. We'll review different approaches to making chimeras and beasts with the world at our fingertips. Students refine their draftsmanship skills in an illustration course that asks them to reconsider the existence of animals that might lurk in hidden lairs. At the end of this course, students will have the experience of taking inspiration from multiple sources and letting their imagination create some truly amazing creatures!
Notes
This course requires access to one or more applications that are part of the Adobe Creative Cloud. Please visit the Adobe website to check "minimum system requirements" for your computer before registering.
Prerequisites
Students must be age 13-17 to participate.
Instructors
Enroll Now - Select a section to enroll in
Required fields are indicated by .