Course Description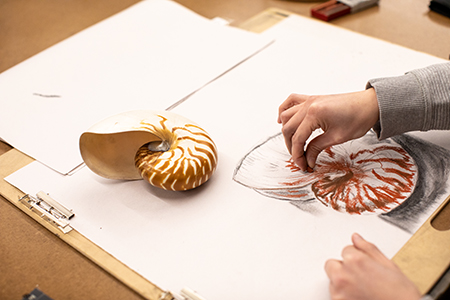 Drawing is an essential means of communicating, and central to every artist's and designer's practice. This class is a more rigorous and sustained introduction to the drawing medium. Drawing I students begin learning to define shapes and forms with line: investigating weight, direction and speed through gesture, contour and planar analysis. Then moving on to value, using both additive and reductive ways of working, they learn to utilize the power of light and dark to create a sense of texture, volume and space. Spatial systems, including perspective, are investigated as well as fundamentals of composition to construct dynamic imagery. Measuring and attention to negative space are essential skills used and reinforced throughout the learning process. Transcribing what is seen or imagined into visual form utilizing multiple approaches -- from note taking to rendering to diagramming and sketching -- is explored. The course is structured around demonstrations, guided exercises, and sustained drawing of varied subject matter including still-life, landscape, architecture and the human form. Please note that in addition to the lab fee, you can expect to have to buy additional supplies for this class. We try to keep this cost under $100, but for specialized classes (jewelry, wood, metals) this may be higher.
Applies Towards the Following Certificates
Required fields are indicated by .