2873
-
Children's Book Illustration: Introduction
1029229
Course Description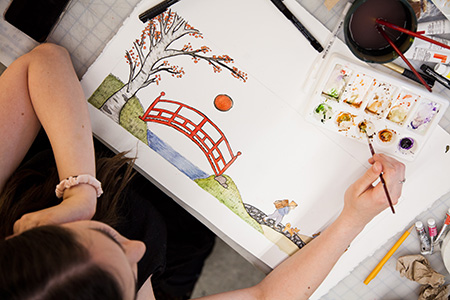 Illustration by Grace Saadi
Children's books captivate and guide a child into an imaginative universe by combining dynamic images with evocative words. This online course provides an introduction to both through video presentations and tutorials. The fundamentals of illustrating for children are explained point by point in these tutorials and discussed, from design, text integration, character creation and color palette, to concept development and storyboarding. Texts are provided for all assignments; however, students may use their own manuscripts to work on within the context of assignments, and are encouraged to develop their own characters and work from their ideas. Assignments are presented and critiqued weekly through discussion boards. Some instruction is provided in watercolor as a medium in video demonstrations, but students may also choose media they already know, or want to explore, for their assignments. By completing several illustrations and a storyboard by the end of the course, students will get a taste of illustrating and writing for children.
Prerequisites
Students must be an adult age 18 or older to participate.
Instructors
Applies Towards the Following Certificates
Enroll Now - Select a section to enroll in
Required fields are indicated by .