0812
-
Interior Design Studio II: Public Spaces
1029269
Course Description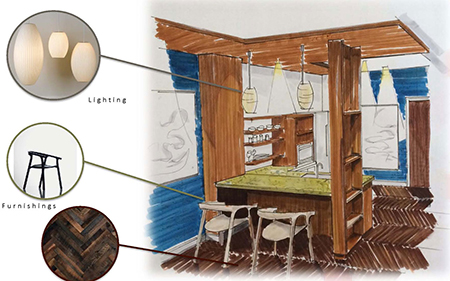 Design by Michael Camara
Designing successful shared spaces involves communication, brand identity and project management. Students take on these challenges as they consider design strategies for public spaces. Practical lessons include discussion of legislated policies like the ADA, local health and safety codes. Project sites might include offices, retail outlets, hotels or healthcare facilities, each with confining technical criteria, traffic patterns and budgets that inform the design brief and create opportunities for the designer. The workflow is examined and shared for critique as students research, measure, draw, propose and plan in order to deliver a personal design concept that reimagines shared spaces. Note: It is recommended that students complete the prerequisite and/or have prior knowledge of interior design principles.
Applies Towards the Following Certificates
Required fields are indicated by .