1050
-
Interior Design Studio I: Private Spaces
1029275
Course Description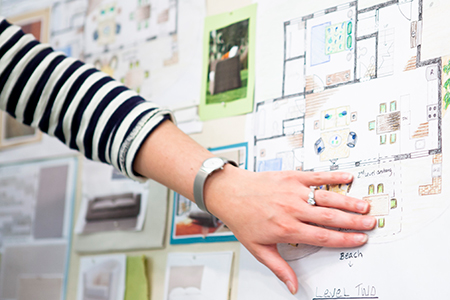 In this course, students gain the understanding of designing creative residential living spaces while also developing their hands-on experience. They will actively participate in the programming and schematic design phases. Students learn to consider residential space in terms of proportion, scale, composition, balance, color, texture, light, surface treatment and material selection, as well as function, circulation and occupancy. Design elements are reviewed in a creative environment that encourages participants to express their own design styles. Discussions and critiques help students learn to reveal the critical thinking behind their drawings and design process. Successful students will have developed a better understanding of universal design, sustainability, and the project management as applied to residential interiors. Note: It is recommended that students complete the prerequisite and/or have prior knowledge of interior design principles.
Prerequisites
Students must be an adult age 18 or older to participate.
Applies Towards the Following Certificates
Required fields are indicated by .