0631
-
Digital Modeling + Rendering for Interior Design
1029341
Course Description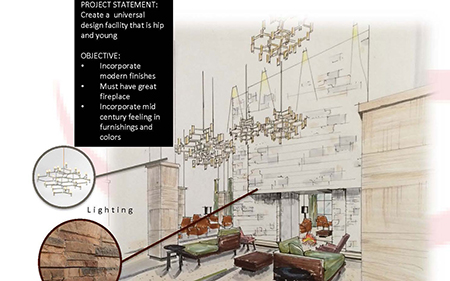 Design by Michael Camara
This course introduces students to basic computer modeling and digital rendering concepts. These techniques can be used to develop interior designs and effectively communicate their spatial qualities and aesthetics to professionals and clients. Using SketchUp, students will learn the fundamentals of modeling forms that will become the basis for architectural components and a completed interior space. Adobe Photoshop will be utilized as a simple renderer to add materials, textures, lighting effects and entourage for presentations. Students will come away with a set of skills that will take them beyond the initial modeling and rendering techniques demonstrated in class, which can be used in many different ways to communicate and develop their designs in their careers.
Prerequisites
Students must be an adult age 18 or older to participate.
Instructors
Applies Towards the Following Certificates
Enroll Now - Select a section to enroll in
Required fields are indicated by .