1911
-
Digitally Printed Fabrics: Infinite Surface Design
1029430
Course Description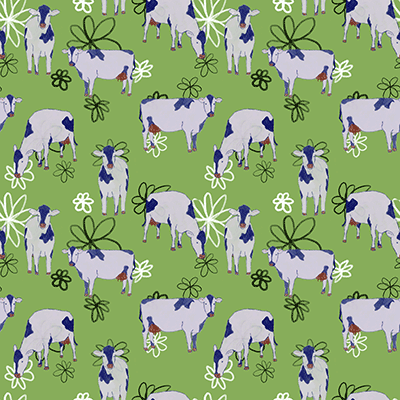 Design by Julia Stam
Digital printing technology allows for infinite possibilities in textile surface design. In this course, students are introduced to the basic elements of textile design, such as color, pattern and repeat. They then explore individual concepts through drawing, painting and collage assignments that focus on a variety of approaches such as narrative, singular imagery and/or repetitive pattern. Students use Adobe Photoshop as the primary tool for integrating their initial hand-created designs with new design technology. Personal concepts are further developed through experimentation with such elements as layered, textural and transparency effects. Students may choose to create print samples and a final project (a collection of work) through the utilization of a third-party vendor. By learning the fundamentals of outsourcing, students leave the course with the ability to confidently order samples and yardage for future design work. The course is comprised of group and individual critiques, and lectures that include an overview of print fabric applications including apparel, interior design and fine art pieces. No previous textile experience required. A basic understanding of Photoshop is helpful, but not required. Students unfamiliar with Photoshop may find it helpful to take an online tutorial prior to the class.
3 credits
Notes
This credit-bearing course is part of RISD Summer Programs, and is open to matriculating students, art and design professionals and those considering a degree in the visual arts.
RISD degree students: This course offers 3 transfer credits with pre-approval from your department head using the "Transfer Credit Prior Approval for Major/Non Major Credit" form, found on the Registrar's Office Forms page. Submit the signed form to the Registrar's office and then complete the online course registration.
In this intensive course, students should expect to spend approximately 20 hours per week engaging in coursework. Students should plan their schedule accordingly to keep up with class.

Prerequisites
Students must be an adult age 18 or older to participate.
Instructors
Applies Towards the Following Certificates
Enroll Now - Select a section to enroll in
Required fields are indicated by .