9275
-
Painting Sea and Sky in Watercolor
11618473
Course Description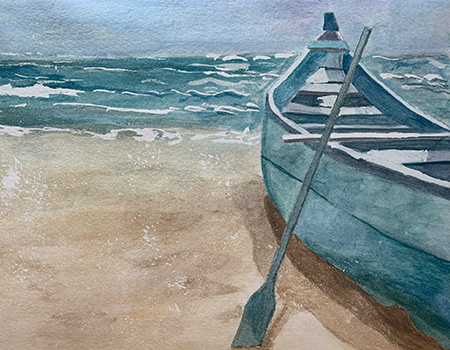 Artwork by Sandra Santos
Watercolor is the perfect medium to capture the spontaneous beauty and fleeting nature of the sky and sea. Learn how to "design" a sky using positive and negative space and how to use the watercolor medium to its best effect as you explore painting waves, still water, various cloud types, and other scenarios that present themselves in seascape and landscape painting. With a focus on deep observation, you will gain insight into how to translate and express what you see in the natural world and include these in your paintings. Using a variety of techniques including wet-on-wet painting, you will achieve immediate results and quickly learn how to use watercolor in a bold and expressive way to create atmospheric depth and mood in your painting. This course is open to students of all levels, but it is recommended that students have basic drawing skills.
Prerequisites
Students must be an adult age 18 or older to participate.
Applies Towards the Following Certificates
Required fields are indicated by .