9317
-
RISD Art Camp (9-12)
13172838
Course Description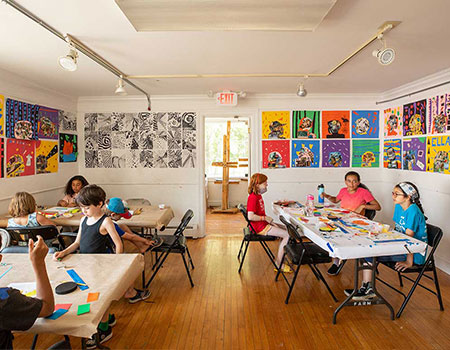 RISD Art Camp is a week-long option for students 6–8 and 9–12 years old. Each day at camp, students celebrate their creative strengths while developing new skills to apply during individual and group projects. Campers build their confidence, make new friends, and create beyond their expectations. RISD Art Camp is surprising, fun, carefully planned, and artfully coordinated.
With a special focus on collaborative thinking and artmaking, each group experiences art through playful exploration. In the mornings, students spend time in a guided art lesson that highlights specific media across 2D and 3D options. Students will not be sitting at desks all day: Campers stay inspired during nature walks on the beach and in the woods, and the daily schedule includes plenty of time for recreational activities in the outdoor green areas. Each Friday during the program, families are invited to join an art celebration before collecting their student's work to bring home.
Ages 9–12: Students experience more opportunities for choice while being encouraged to push their creative boundaries. In the afternoons, with brushes in hand, they form teams of makers to create projects that fit the weekly theme.
Themes:
In the afternoons, students complete art projects that follow the week's theme. Here is a list of themes students might engage with:
Theme Park Funfair
Wildlife Expedition
Aeronautical Adventures
Folklore Reimagined
Time Travel Exploration
Notes
Review important camp information including: what to bring each day; emergency response protocol; COVID-19 plan; and policies including drop-off and pick-up/authorized pick-up, protection of minors, Title IX, and emergency contact.
Prerequisites
Students must be age 9–12 to participate.
Required fields are indicated by .