9080
-
Jewelry Making + Design I (Part A)
2775035
Course Description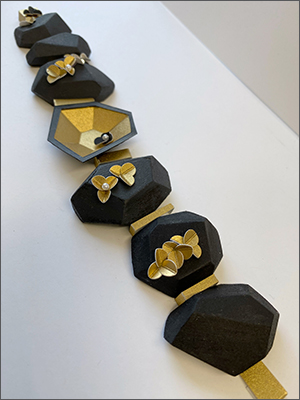 Design by Pamela Savas
Inspiration plays an essential role in the design and creation of jewelry—so does research. In this design-focused course, we will learn how to conduct research that helps us discover ideas and uncover inspiration from the world around us. We will then use sketches and paper models to translate discoveries into designs. The course begins with a variety of paper exercises that allow students to learn essential model making skills as well as ways of cutting, manipulating, bending and folding that help them understand different materials' natural properties. To facilitate this process, students observe how nature and natural forms are ideal catalysts in the development of unique pieces of jewelry. Fundamental techniques for wire wrapping and working with found objects are presented, along with examples of contemporary jewelry design. As the course takes place outside of the jewelry studio and in students' spaces, all projects are created using readily available tools and supplies such as paper, wire and everyday materials.
Prerequisites
Students must be an adult age 18 or older to participate.
Applies Towards the Following Certificates
Required fields are indicated by .