4074
-
A History of Art, Design + Passion in Venice
2808670
Course Description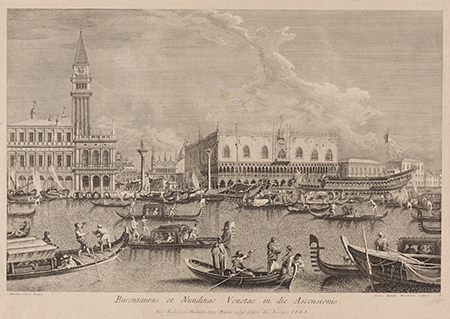 Giovanni Battista Brustolon, printmaker, after Canaletto, designer, The Grand Canal on Ascension Day, from the series Views of the Buildings and Passageways that Make Up the City of Venice, 1763. Museum Works of Art Fund. Courtesy of the RISD Museum.
Surviving and thriving against all odds, the city of Casanova, of seduction, shadows and shimmering marbles, Venice offers up layers of history, art, architecture and intrigue. This course explores the thousand-year story of this city floating on the sea, its architectural wonders, the artists such as Bellini and Canaletto who captured its color, and the writers such as John Ruskin and Thomas Mann who immortalized its eternal appeal. Giacamo Casanova's autobiography, The History of My Life, will be used as a window onto the social customs and habits of Venice in the 18th century, when the city was the pleasure capital of Europe.
Prerequisites
Students must be an adult age 18 or older to participate.
Applies Towards the Following Certificates
Required fields are indicated by .