9094
-
Visual and Critical Language
2823940
Course Description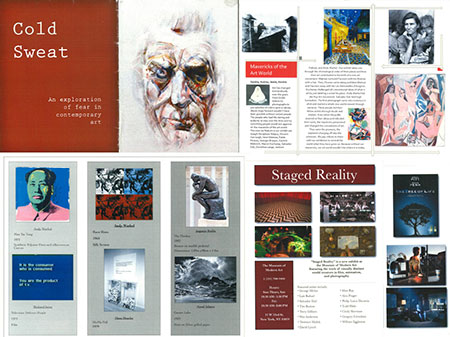 In this course students address where we are today and how artists and designers have used their expressive capacity to reflect on current culture. Through virtual museum, gallery and artist studio tours we will examine what artists and designers are doing and saying about contemporary issues and the role their work plays in society and how it can inspire your personal creative work.
Film viewing and reading assignments on the lives and works of key contemporary artists and designers relevant to the Featured Topic give understanding of how creativity and invention always flourish during times of uncertainty. Emphasis in this course is on concept development through research strategies that help avoid the common pitfalls of the cliché, plagiarism and citing inaccurate information. Students develop the ability to speak, write and present in clear, well-reasoned ways about the work they create in the Featured Topic.
Notes
In this intensive course, students should expect to spend a minimum of 2.5 hours per week of engaging in coursework. Students should plan their schedule accordingly to keep up with class.
This course is required to be taken in conjunction with your Featured Topics course(s). When you register for the Featured Topics course of your choosing (or Part II of the course within the fall or spring semesters), you will also be charged for the tuition of Visual + Critical Language. The Visual + Critical Language course will appear in your Student Portal before the start date of the course. Visual + Critical Language will meet live two times: during the first and final live sessions of your Featured Topics course.
Prerequisites
This course is part of RISD's Advanced Program Online, a pre-collegiate program for students ages 15–18 in grades 10–12. This course should be taken at the same time as Part II of a Featured Topics course.
Applies Towards the Following Certificates
Required fields are indicated by .