4088
-
Illustration: The Assembled Image
3544288
Course Description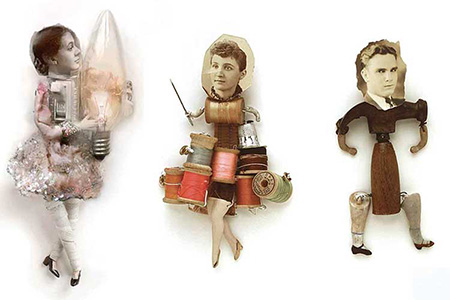 Artwork by Polly Becker
Collage, assemblage and montage are related approaches to creative expression that include mixing, combining and reassembling images and objects, removing them from an original context in order to explore new expressive possibilities. Surrealists used collage and assemblage to liberate the hidden meaning in everyday things. In this course students experiment with found objects, two- and three-dimensional pieces, pattern, texture, color, mixed media, appropriated imagery and other visual fragments to explore visual narrative and conceptual problem solving. Students come away with surprising and unique work that has something of its own to say even while borrowing from other many different sources for its visual language.
3 credits
Notes
This credit-bearing course is part of RISD Summer Programs, and is open to matriculating students, art and design professionals and those considering a degree in the visual arts.
RISD degree students: This course offers 3 transfer credits with pre-approval from your department head using the "Transfer Credit Prior Approval for Major/Non Major Credit" form, found on the Registrar's Office Forms page. Submit the signed form to the Registrar's office and then complete the online course registration.
In this intensive course, students should expect to spend approximately 20 hours per week engaging in coursework. Students should plan their schedule accordingly to keep up with class.

Prerequisites
Students must be an adult age 18 or older to participate.
Instructors
Applies Towards the Following Certificates
Enroll Now - Select a section to enroll in
Required fields are indicated by .