9103
-
Creative Nonfiction Writing
3585269
Course Description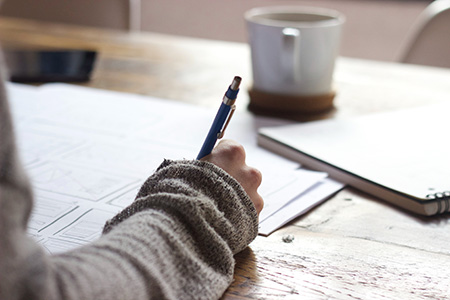 At the heart of nonfiction, lies the examining mind that uses a sense of self or lyrical "I" to investigate a larger world experience. Creative nonfiction is often a kind of organized thought experiment through which a narrative of personal experience and self-examination incorporate historical facts or texts. Joan Didion, James Baldwin and Susan Sontag were exemplary figures in the 60s and 70s blending personal reflection with an examination of current events and contemporary issues. Today, such literary figures as Claudia Rankine, Jesmyn Ward and Maggie Nelson carry on this tradition. In this course students examine how their own personal sense of the daily and the ordinary can be used as a kind of crucible to think about, through, and with current events and other social and political happenings today.
Students learn the basic components of creative nonfiction writing including beginnings and endings, trajectory of the story versus the creation of the situation, how to create speed in the sentence, how to move the reader through time and place, techniques dealing with chronology, and use of description, scene, and dialogue. Additionally, we will investigate what it means to have reflective, non-reactionary response. Students will also be developing a vocabulary of constructive critique for creative work. Two creative essays are created over the course of the class, which culminates in a final portfolio of revised work.
3 credits
Notes
This credit-bearing course is part of RISD Summer Programs, and is open to matriculating students, art and design professionals and those considering a degree in the visual arts.
RISD degree students: Satisfactory completion of this course with a 'C' or better can count as 3 transfer credits toward the LAS elective requirements. This course offers 3 transfer credits with pre-approval from the Liberal Arts department using the Prior Approval for Liberal Arts Credit Form. Complete the electronic form in etrieve and then complete the online course registration.
In this intensive course, students should expect to spend approximately 20 hours per week engaging in coursework. Students should plan their schedule accordingly to keep up with class.

Prerequisites
Students must be an adult age 18 or older to participate.
Applies Towards the Following Certificates
Enroll Now - Select a section to enroll in
Required fields are indicated by .