9104
-
Contemporary Drawing: Intercultural Approaches
3585307
Course Description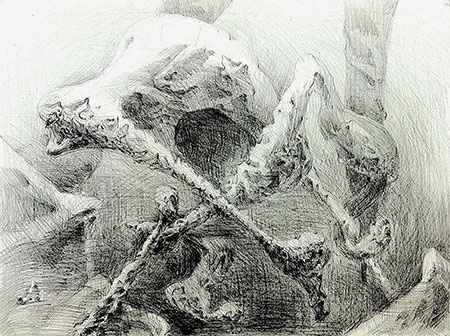 Drawing by Yo Ahn Han
What does it mean to be a practicing artist in today's intercultural world? In this course students explore classical and contemporary approaches to drawing. Students navigate the lineage of Greco-Roman traditions and learn where they intersect, converge and diverge from Eastern traditions and other alternative subcultural artistic movements. Students are exposed to a diverse range of mark-making solutions and develop skills in visual research with emphasis on personal memoirs and socio-cultural factors that shape their own individual experience. Topics traverse historical events to current issues and how artists have responded. Lectures, demonstrations and in-depth critique support students in their visual and conceptual research in response to weekly assignments. From thumbnail concepts to fully-realized larger works, projects encompass multiple ways of seeing your surroundings and interpreting ideas into myriad pictorial languages. Individual guidance is provided to accommodate varying levels of ability, from beginning to advanced. Previous drawing experience helpful, but not required.
Notes
This credit-bearing course is part of RISD Summer Programs, and is open to matriculating students, art and design professionals and those considering a degree in the visual arts.
RISD degree students: This course offers 3 transfer credits with pre-approval from your department head using the "Transfer Credit Prior Approval for Major/Non Major Credit" form, found on the Registrar's Office Forms page. Submit the signed form to the Registrar's office and then complete the online course registration.
In this intensive course, students should expect to spend approximately 20 hours per week engaging in coursework. Students should plan their schedule accordingly to keep up with class.

Prerequisites
Students must be an adult age 18 or older to participate.
Applies Towards the Following Certificates
Enroll Now - Select a section to enroll in
Required fields are indicated by .