9218
-
Designing Your Creative Space: Studios, Crafting Rooms, Offices, and Cozy Nooks
9903185
Course Description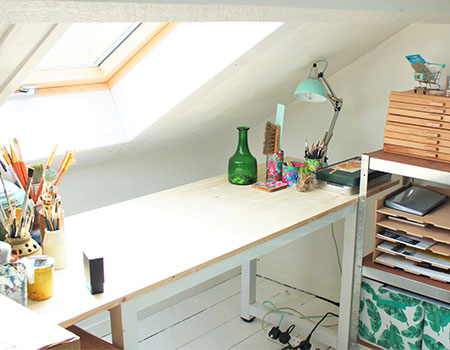 Image by Sema Martin
Dream, plan and execute an interior design project that will transform an area of your home into a space that supports your creativity, productivity and happiness. Come to this class with a mission to create a dedicated place for your personal work and passion projects; it could be a library nook for reading and writing, a home office, an art studio, a crafting room, or an area for yoga and meditation. The process starts by writing a design brief specifying your priorities and identifying areas within your home that could be reworked to suit your needs. You will create mood boards, devise a budget, assess storage and furniture options, and make basic sketches and floorplans. You will learn techniques on how to declutter different areas of your home and concentrate on sustainable recycling. The course focuses on designing solutions for small spaces, creating specific zones in multipurpose rooms, achieving the perfect lighting, and addressing the challenges of your site. You'll leave the class with a complete portfolio for making your dream space a reality.
Prerequisites
Students must be an adult age 18 or older to participate.
Applies Towards the Following Certificates
Required fields are indicated by .