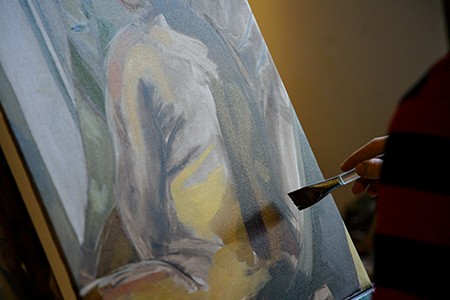 Online Certificate: Courses in this certificate are delivered completely online.
The Painting Studies certificate introduces the beginning artist to the techniques and conceptual thinking necessary to explore, learn, practice, and master the painting medium. The program guides students through learning about materials, techniques, concepts and representing different subjects in different contexts, to working on more complex visual challenges that enable them to fully navigate the relationships between color, space and composition as they make work. Students are supported in creating their individual practice – developing confidence and competence with diverse techniques and conceptual fluidity. As a personal visual language is refined, students shift towards more self-directed study and learning to work independently as an artist.
Certificate Guide and Cost Breakdown (pdf)
Skill Development
Drawing, design, composition and color theory and its applications
Hand-eye coordination
Materials and techniques of oil painting medium
Paint handling
Conceptual thinking skills
Adobe Photoshop
Learning Outcomes
Learn fundamentals of drawing, design and color as they relate to painting
Understand how to apply color theory and mechanics in practice, using hue, value and intensity, line, shape, value, texture, figure/ground relationships, repetition, contrast, rhythm, and transformation in intentional ways
Gain a familiarity with traditional and contemporary painting materials and techniques including tonal, direct, indirect (underpainting and glazing) and palette knife as well as preparing supports and surfaces
Build confidence in working with complex visual challenges and a variety of subject matter including still-life, figure, landscape and architecture
Receive an introduction to, and familiarity with, Adobe software methods to enhance imagery, both of individual work and work references
Learn how to work in series and ability to pursue and develop independent projects to ultimately sustain an Individual practice and work independently as a studio artist
Understand how to build a portfolio for potential career opportunities that could include working with a gallery, application to art shows, entry to exhibits and competitions
Program Cost
$9,325 total
Current tuition rates; subject to change over the course of your program. Supplies, software subscription fees and other materials are not included.