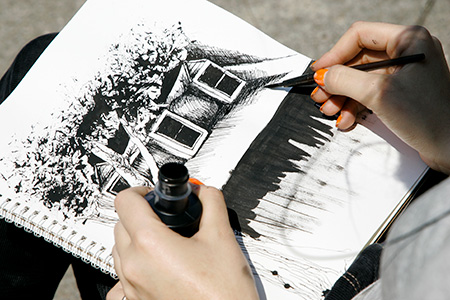 Eligibility
High school students in grades 10–12 (or the equivalent) who are 15–18 years old
RISD's Advanced Program Online offers a certificate track for students who want to expand their skill sets and portfolio. Students who complete the program engage in a curriculum that emphasizes learning the fundamentals of drawing and design through a variety of materials that can then be applied in new and experimental ways. By understanding the fundamentals of methods and materials, students are able to more successfully visualize their ideas.
In addition to learning how to use creative tools, students develop the ability to research, iterate and evolve concepts that can set their work apart from the ordinary and cliché. Critical inquiry into contemporary artists and issues is fostered along with the vital ability to write, speak about and present your work.
Learning Outcomes
The primary goal of this program is to provide an educational experience that allows students the opportunity to focus on a passion, reflect on contemporary circumstances, and experience the pursuit of art and design topics in depth. This immersive and intensive online experience will help students as they learn to be self-motivated, nimble, creative and critical thinkers. Learning outcomes include:
A strong understanding of foundational principles in drawing and design
Knowledge of contemporary thinking in art and design, especially as it pertains to responses to crisis
An understanding of art and design processes, such as iteration, materials exploration, and relationships between concepts and form
Ability to use visual language to express ideas and give critical feedback to others
Ability to work in productive relationships with a diverse community of others, including collaboration with instructors and peers
Ability to manage personal time and be self motivated in planning and executing work
A body of work including concepts, sketches and finished pieces that may be included in and/or can inform your college application portfolio
Students must complete the following courses with a minimum grade of C-
Exploration In Design
Experiential Drawing
Featured Topic (choose)
Visual + Critical Language
Program Cost
$5,520 total
Current tuition rates; subject to change over the course of your program. Supplies, software subscription fees and other materials are not included.
Additional Information