0627
-
Painting from Nature (Part B)
1029257
Course Description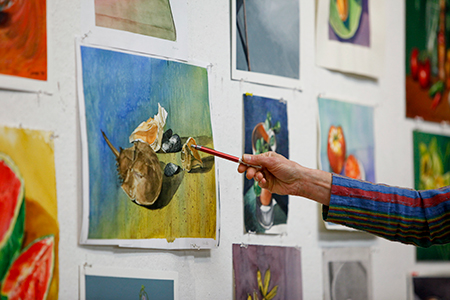 Building on skills developed in "Painting from Nature, Part A" (0626), students in this asynchronous online course take on more complex challenges while honing their technical skills, including learning to work with water media and acrylic paint. The structure of the course involves following step-by-step instructions, viewing demonstrations and doing hands-on exercises to provide the framework to explore the principles of color and rendering techniques in acrylic paint. Lighting is emphasized as a means of enhancing the volume and form of a specimen. Plants, leaves, shells, and other natural objects are the subjects for observation and study. Objectives may include creating realistic visuals as fine art, illustration, for children's books and scientific publication. Students will need to supply their own natural subjects and specimens, similar to what are shown in demonstrations. Note: Successful completion of "Painting from Nature, Part A" (0626) and "Painting from Nature, Part B" (0627) satisfies the "Painting from Nature" (2286) requirement for the Natural Science Illustration certificate.
Prerequisites
Students must be an adult age 18 or older to participate.
All other prerequisites for Painting from Nature (Part A) apply.
Applies Towards the Following Certificates
Required fields are indicated by .