9248
-
Interior Design Studio IV: Flexible Indoor and Outdoor Spaces
11571118
Course Description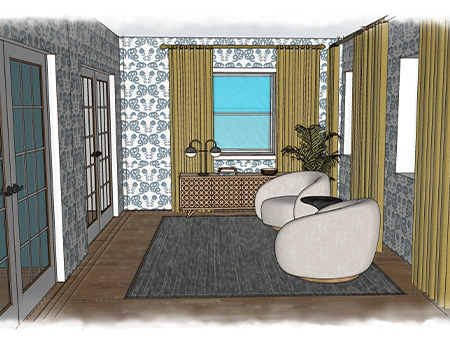 Design by Jessica Caccamo
Studio IV builds on the conceptual, planning, and technical skills acquired in Studio I, Studio II and Studio lll by encouraging students to focus on developing design solutions for flexible indoor and outdoor living spaces. Students will expand on their study model project by integrating outdoor living and dining areas (a porch or patio) within the site plan. Additional topics to be addressed include outdoor lighting, landscape materials and building codes for outdoor construction and plumbing.
Note: Students must be prepared to communicate their design solutions digitally using AutoCAD.
Prerequisites
Students must be an adult age 18 or older to participate.
All other prerequisites for Interior Design Studio III: Kitchens and Baths apply.
Applies Towards the Following Certificates
Required fields are indicated by .