1060
-
Final Studio: Interior Design
1029043
Course Description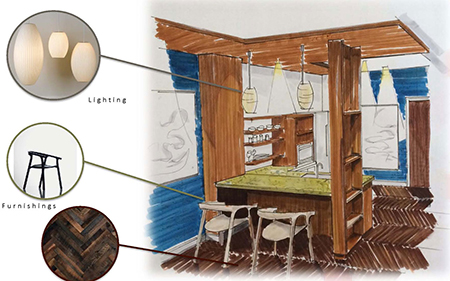 Design by Michael Camara
In this final studio course, interior design students put it all together, undertaking interior design projects requiring in-depth research including historical styles, cultural influences and special-purpose spaces. A final project demonstrates the student's familiarity with major interior design components, including lighting, finishes, building codes, millwork and material standards. Business practices and methods for presenting design solutions are also covered for those who are about to begin, or who have already commenced, a career in interior design. Certificate students: Class meets over the course of the 12-week term, with meetings established by the instructor at the beginning of the term. Students work independently on their projects and in-between class meetings. A final portfolio highlighting the final project is assembled as part of the final deliverables.
Prerequisites
Students must be an adult age 18 or older to participate.
Instructors
Applies Towards the Following Certificates
Enroll Now - Select a section to enroll in
Required fields are indicated by .