1015
-
Lighting for Interior Design
1029273
Course Description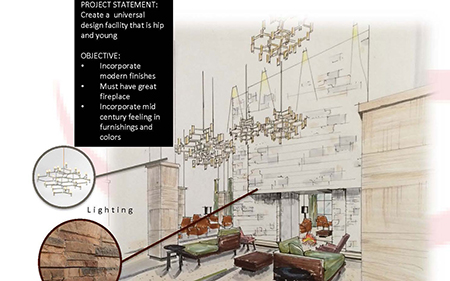 Design by Michael Camara
Lighting has a significant impact on human well-being. It is a crucial component in creating atmosphere and enabling function of an interior space, and can be used to define architectural space, enhance texture in surface materials, and reveal form in furnishings. This course introduces students to the equipment, techniques and concepts of lighting design. With a focus on new technologies and sustainable lighting solutions, students learn about sources, fixtures and systems as they develop creative, functional lighting plans for a variety of spaces. Note: It is recommended that students complete the prerequisite and/or have prior knowledge of interior design principles.
Prerequisites
Students must be an adult age 18 or older to participate.
Applies Towards the Following Certificates
Required fields are indicated by .