9019
-
Interior Design Studio I: Concept and Ideation
2134635
Course Description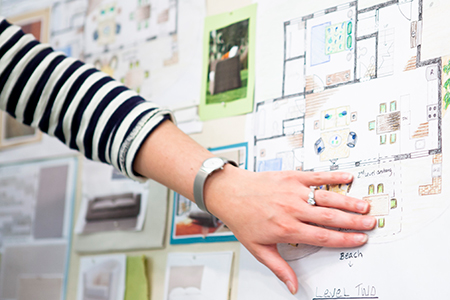 In this course, the first of a four-part series, students receive a comprehensive overview of how to design residential living spaces and gain hands-on experience with the conceptual phases of the process. Students will learn to think about residential space in terms of proportion, scale, composition, balance, color, texture, light, surface treatment and material selection, as well as function, circulation and occupancy. They will begin a study model project by communicating their design ideas through concept statements, bubble diagrams, and sketch development. Discussions and critiques will help students learn to present the critical thinking behind their drawings and design process.
Note: Students must be prepared to communicate their design solutions either digitally (AutoCAD) or through scanned hand rendering.
This course was previously titled Interior Design Studio I - Private Spaces A
Prerequisites
Students must be an adult age 18 or older to participate.
Applies Towards the Following Certificates
Required fields are indicated by .