0928
-
Final Studio: Natural Science Illustration
1029037
Course Description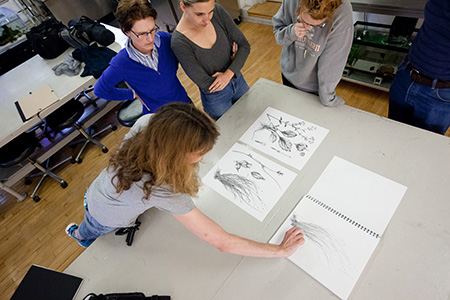 The final studio is an opportunity for students to pursue and develop independent projects in natural science illustration. The course aims to develop and shape a self-sustaining critical discourse around each student's emergent practice, as they gain the confidence to develop on their own, become self-directed and work independently as artists. Students will use skills and techniques learned in previous courses to create work that integrates the natural subject and its environment in completed, mature compositions, in a media of choice. Emphasis is placed on depicting subjects with highly accurate and scientifically correct information while showing individual interpretation and style. Advanced drawing and painting methods are reviewed and practiced as students work toward portfolio-ready pieces.
Special Schedule: Class meets over the course of the 12-week term, with meetings established by the instructor. Students also work independently between class meetings. A final individual portfolio review is included at the end of the semester and will be scheduled with your instructor.
Prerequisites
Students must be an adult age 18 or older to participate.
Applies Towards the Following Certificates
Required fields are indicated by .