0928
-
Final Studio: Natural Science Illustration
1029037
Course Description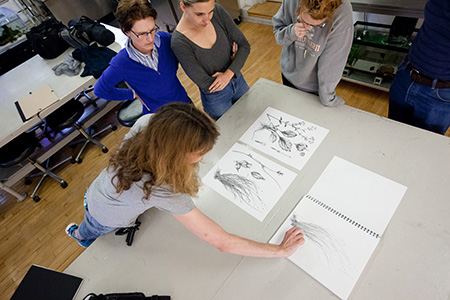 As the final course before graduation for Natural Science Illustration certificate candidates, students utilize skills and techniques learned in previous courses to create work that integrates the natural subject and its environment in completed, mature compositions. Emphasis is placed on depicting subjects with highly accurate and scientifically correct information while showing individual interpretation and style. Selection of subjects are chosen from specimens at the Edna Lawrence Nature Lab. Advanced drawing and painting methods are reviewed and practiced as students work toward portfolio-ready pieces. Media is students' choice. Certificate students: Your instructor will schedule a final portfolio review date, independent of the scheduled class dates. Please note that in addition to the lab fee, you can expect to have to buy additional supplies for this course. We try to keep this cost under $100, but for specialized classes (jewelry, wood, metals) this may be higher.
Prerequisites
Students must be an adult age 18 or older to participate.
Applies Towards the Following Certificates
Required fields are indicated by .