0084
-
Animation: Beyond Entertainment
1029083
Course Description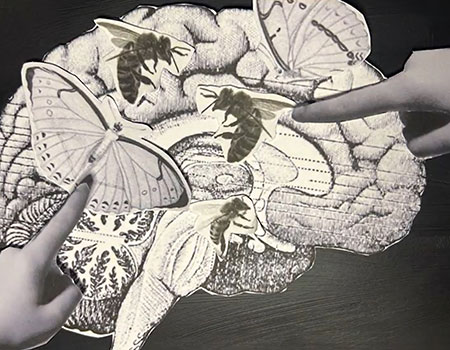 Artwork by Meghan D.
With increasing expansion, animation serves as a vital tool to highlight injustices, explain data and essential information, and bring new understanding to critical issues. This course focuses on communication, problem solving, and reflection upon global and local issues through the medium of animation. The fundamental principles are introduced through a variety of methods and materials, which may include flipbooks, storyboards, collage, cutouts, and stop-motion techniques. Students think and learn about the roles of artist-as-communicator and artist-as-educator with the ability to create content that is impactful, dynamic and effective. Independent research of political and socioeconomic areas of interest provides students with the content to develop their unique vision.
Notes
In this intensive course and Visual + Critical Language, students should expect to spend a combined minimum of 20 hours per week engaging in coursework across both courses. Students should plan their schedule accordingly to keep up with class.
In conjunction with your Featured Topics course(s), you are also required to enroll in Visual + Critical Language. When you register for this Featured Topics course, you will also be charged for the tuition of Visual + Critical Language. You will see this enrollment reflected in your Student Portal before the start date of the course. Visual + Critical Language will meet live two times: during the first and final live sessions of your Featured Topics course.
This course requires access to one or more applications that are part of the Adobe Creative Cloud. Please visit the Adobe website to check "minimum system requirements" for your computer before registering.
Prerequisites
This course is part of RISD's Advanced Program Online, a pre-collegiate program for students ages 15–18 in grades 10–12.
Students who have completed or are currently enrolled in a prerequisite Essential Fundamentals course are eligible to enroll in the Advanced Program Concentration, which includes a Featured Topics course. If you have not yet completed an Essential Fundamentals course, you will receive an Enrollment Warning at checkout, and will be required to submit a Prerequisite Override Request for review.
Applies Towards the Following Certificates
Required fields are indicated by .