0085
-
Architecture: Adaptable Spaces
1029085
Course Description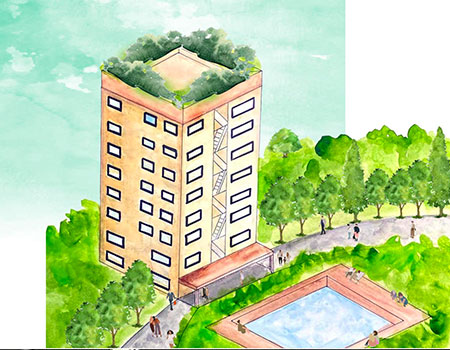 Artwork by Kristin L.
How can we design buildings that support us inside and out? Through a process of research and iteration of concepts, students address this critical question by expanding upon notions of sustainability and adaptability. As an introductory architectural design course, important architectural principles will be presented through exercises, lectures and demonstrations to develop an understanding of scale, form and spatial relationships. Students strengthen problem-solving skills by learning basic architectural concepts, vocabulary and strategies. Hands-on quick sketches and model-making leads to a final design concept communicated through a finished model and axonometric drawing. This course provides the framework for the type of analysis and synthesis that's crucial to further architectural pursuits.
Notes
In this intensive course and Visual + Critical Language, students should expect to spend a combined minimum of 20 hours per week engaging in coursework across both courses. Students should plan their schedule accordingly to keep up with class.
In conjunction with your Featured Topics course(s), you are also required to enroll in Visual + Critical Language. When you register for this Featured Topics course, you will also be charged for the tuition of Visual + Critical Language. You will see this enrollment reflected in your Student Portal before the start date of the course. Visual + Critical Language will meet live two times: during the first and final live sessions of your Featured Topics course.
Prerequisites
This course is part of RISD's Advanced Program Online, a pre-collegiate program for students ages 15–18 in grades 10–12.
Students who have completed or are currently enrolled in a prerequisite Essential Fundamentals course are eligible to enroll in the Advanced Program Concentration, which includes a Featured Topics course. If you have not yet completed an Essential Fundamentals course, you will receive an Enrollment Warning at checkout, and will be required to submit a Prerequisite Override Request for review.
Instructors
Applies Towards the Following Certificates
Enroll Now - Select a section to enroll in
Required fields are indicated by .