0086
-
Art + Social Justice
1029087
Course Description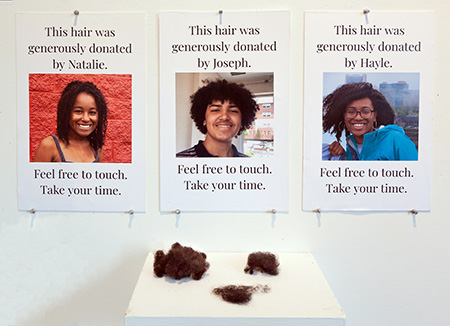 Artwork by Natalie Tyson
During times of economic, political, health or environmental crisis, racism and issues of particular inequities rise to the surface. In this course students engage with pivotal and complex social issues to investigate how during these tension points artists become powerful agents of change. Working within the framework of Emory Douglas' role of the artist to inform, enlighten and educate, students explore how, what and where to message their voice in ways that will have the most impact. Through lectures, assigned research, online discussions and 2D studio assignments, students focus on projects that will enhance their art and design skills and the ability to confidently communicate their concept.
Students learn how to use type and image to convey powerful graphic messaging in consideration for use in print and on social media platforms. Historical and contemporary iconic imagery—such as Shepard Fairey's ambiguous street culture of "Obey," Banksy's anonymous social commentary on inequity, and most recently Lisa Wool-Rim Sjöblom's "I am not a virus" campaign addressing current xenophobic hostility—is covered to help inform students in the creation of their own series of work and a final video presentation.
Notes
In this intensive course and Visual + Critical Language, students should expect to spend a combined minimum of 20 hours per week engaging in coursework across both courses. Students should plan their schedule accordingly to keep up with class.
In conjunction with your Featured Topics course(s), you are also required to enroll in Visual + Critical Language. When you register for this Featured Topics course, you will also be charged for the tuition of Visual + Critical Language. You will see this enrollment reflected in your Student Portal before the start date of the course. Visual + Critical Language will meet live two times: during the first and final live sessions of your Featured Topics course.
Prerequisites
This course is part of RISD's Advanced Program Online, a pre-collegiate program for students ages 15–18 in grades 10–12.
Students who have completed or are currently enrolled in a prerequisite Essential Fundamentals course are eligible to enroll in the Advanced Program Concentration, which includes a Featured Topics course. If you have not yet completed an Essential Fundamentals course, you will receive an Enrollment Warning at checkout, and will be required to submit a Prerequisite Override Request for review.
Applies Towards the Following Certificates
Required fields are indicated by .