0088
-
Drawing + Mixed Media: Expressive Ideation
1029091
Course Description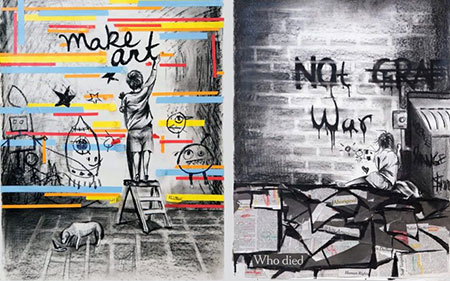 Artwork by Lauren Zong
This course presents students with an opportunity to expand their understanding of drawing fundamentals by considering and utilizing nontraditional materials and methods. Through lectures, demonstrations and reviewing artists' works, students come to see drawing as a way of thinking through visual and conceptual problems, allowing them to see how to develop visual languages that can address issues and areas of personal interest. Experimentation as a way to challenge established approaches to composition, materiality, tools and concepts will be explored. Processes such as collage, frottage (rubbings), image transfer, pochoir-stenciling, trace-monotype, screen monotype, and some digital techniques are covered to help students find their own medium of choice for future work. Completed works are driven by invested visual research and experimentation. In conjunction with existing drawing skills (and materials), students will be challenged to develop a series of large(r)-scale works that focus heavily on the harmonious combination of a diverse range of media and techniques.
Notes
In this intensive course and Visual + Critical Language, students should expect to spend a combined minimum of 20 hours per week engaging in coursework across both courses. Students should plan their schedule accordingly to keep up with class.
In conjunction with your Featured Topics course(s), you are also required to enroll in Visual + Critical Language. When you register for this Featured Topics course, you will also be charged for the tuition of Visual + Critical Language. You will see this enrollment reflected in your Student Portal before the start date of the course. Visual + Critical Language will meet live two times: during the first and final live sessions of your Featured Topics course.
Prerequisites
This course is part of RISD's Advanced Program Online, a pre-collegiate program for students ages 15–18 in grades 10–12.
Students who have completed or are currently enrolled in a prerequisite Essential Fundamentals course are eligible to enroll in the Advanced Program Concentration, which includes a Featured Topics course. If you have not yet completed an Essential Fundamentals course, you will receive an Enrollment Warning at checkout, and will be required to submit a Prerequisite Override Request for review.
Applies Towards the Following Certificates
Required fields are indicated by .