0089
-
Graphic Design: Visualizing Information
1029093
Course Description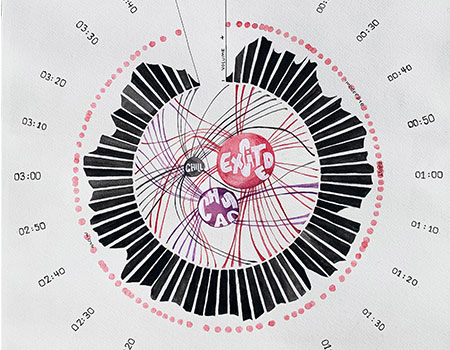 Design by Yutong Z.
Data visualization is storytelling that helps translate information into knowledge. In this course students learn to process complex material like time, location and hierarchy through the design of information structures and systems of form, color and typography. Projects communicate data through a variety of methods such as maps, graphs, charts and diagrams. Students create symbolic visual language to build a series of concepts and final work that makes information about critical issues such as health, environment and social structures accessible. Students will learn various methods of compiling data and translating this information in both analog (hand-making) and digital tools.
Notes
In this intensive course and Visual + Critical Language, students should expect to spend a combined minimum of 20 hours per week engaging in coursework across both courses. Students should plan their schedule accordingly to keep up with class.
In conjunction with your Featured Topics course(s), you are also required to enroll in Visual + Critical Language. When you register for this Featured Topics course, you will also be charged for the tuition of Visual + Critical Language. You will see this enrollment reflected in your Student Portal before the start date of the course. Visual + Critical Language will meet live two times: during the first and final live sessions of your Featured Topics course.
This course requires access to one or more applications that are part of the Adobe Creative Cloud. Please visit the Adobe website to check "minimum system requirements" for your computer before registering.
Prerequisites
This course is part of RISD's Advanced Program Online, a pre-collegiate program for students ages 15–18 in grades 10–12.
Students who have completed or are currently enrolled in a prerequisite Essential Fundamentals course are eligible to enroll in the Advanced Program Concentration, which includes a Featured Topics course. If you have not yet completed an Essential Fundamentals course, you will receive an Enrollment Warning at checkout, and will be required to submit a Prerequisite Override Request for review.
Applies Towards the Following Certificates
Enroll Now - Select a section to enroll in
Required fields are indicated by .