9106
-
Fashion + Feminism: Forward Form
3680416
Course Description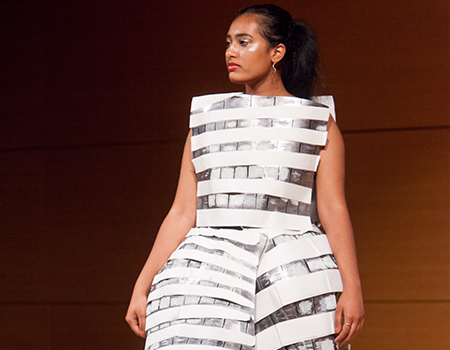 Design by Tess Rich
The female form has been exalted, constrained, and manipulated throughout fashion history—often framed by the demands of the patriarchy. In this course students are asked to push the boundaries of defining the feminine in fashion. Work created challenges a male-dominated field and transforms thinking about how attire integrates with environment and culture. Students develop concept boards, a design for a mini dress form, and ultimately craft a proposed apparel for female, male, or gender-neutral wear. Emphasis is placed on research and developing meaningful and well-crafted work that reflects students' engagement with new thinking about the feminine form. No sewing experience required.
Notes
In this intensive course and Visual + Critical Language, students should expect to spend a combined minimum of 20 hours per week engaging in coursework across both courses. Students should plan their schedule accordingly to keep up with class.
In conjunction with your Featured Topics course(s), you are also required to enroll in Visual + Critical Language. When you register for this Featured Topics course, you will also be charged for the tuition of Visual + Critical Language. You will see this enrollment reflected in your Student Portal before the start date of the course. Visual + Critical Language will meet live two times: during the first and final live sessions of your Featured Topics course.
Prerequisites
This course is part of RISD's Advanced Program Online, a pre-collegiate program for students ages 15–18 in grades 10–12.
Students who have completed or are currently enrolled in a prerequisite Essential Fundamentals course are eligible to enroll in the Advanced Program Concentration, which includes a Featured Topics course. If you have not yet completed an Essential Fundamentals course, you will receive an Enrollment Warning at checkout, and will be required to submit a Prerequisite Override Request for review.
Applies Towards the Following Certificates
Required fields are indicated by .