9107
-
Interpreting the Figure: Culture and Context
3681706
Course Description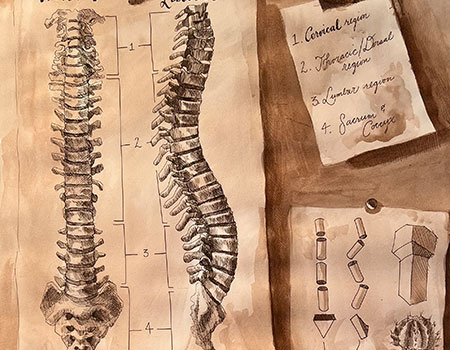 Artwork by Erin S.
The figure continues to provide artists with a critical point of inspiration to express the human experience and reflect current world conditions. In this drawing course students learn the fundamentals of accurately portraying the human form by focusing on the underlying skeletal structure. Through a series of assignments, students work from observation and investigation to address anatomy and meaning. Then students are challenged to move outside of the conventional and cliché understanding of the skeleton, to explore other cultural and historical interpretations of rebirth, communication and transformation. Students develop a series of expressive drawings that position, layer and abstract the form to create work that is rich with personal meaning and unique viewpoints. Note: Students in the class are required to purchase a half-scale skeletal form along with drawing supplies. Full supply list provided upon registration.
Notes
In this intensive course and Visual + Critical Language, students should expect to spend a combined minimum of 20 hours per week engaging in coursework across both courses. Students should plan their schedule accordingly to keep up with class.
In conjunction with your Featured Topics course(s), you are also required to enroll in Visual + Critical Language. When you register for this Featured Topics course, you will also be charged for the tuition of Visual + Critical Language. You will see this enrollment reflected in your Student Portal before the start date of the course. Visual + Critical Language will meet live two times: during the first and final live sessions of your Featured Topics course.
Prerequisites
This course is part of RISD's Advanced Program Online, a pre-collegiate program for students ages 15–18 in grades 10–12.
Students who have completed or are currently enrolled in a prerequisite Essential Fundamentals course are eligible to enroll in the Advanced Program Concentration, which includes a Featured Topics course. If you have not yet completed an Essential Fundamentals course, you will receive an Enrollment Warning at checkout, and will be required to submit a Prerequisite Override Request for review.
Instructors
Applies Towards the Following Certificates
Enroll Now - Select a section to enroll in
Required fields are indicated by .