1723
-
Animation Drawing
1029123
Course Description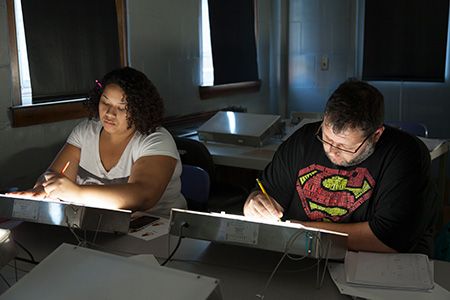 Students take a line for a walk, literally, in this animation course that introduces the hand drawing techniques that have given shape to classic characters like Snow White, Scooby-Doo and Stewie Griffin. Tutorials help students learn how to design characters that move, as they are introduced to the frame-by-frame moviemaking tradition popularized by Studio Ghibli and Warner Brothers. Presentations of an animator's core rudiments like squash and stretch, walk cycles and metamorphosis complete the learning. A sharp pencil is the primary tool, but the motion is finally made real with digital lessons in scanning, capture and sequencing using digital technology. Students exit with a better understanding of the animator's workflow, from light table to tablet to screen.
Prerequisites
Students must be an adult age 18 or older to participate.
Instructors
Applies Towards the Following Certificates
Enroll Now - Select a section to enroll in
Required fields are indicated by .