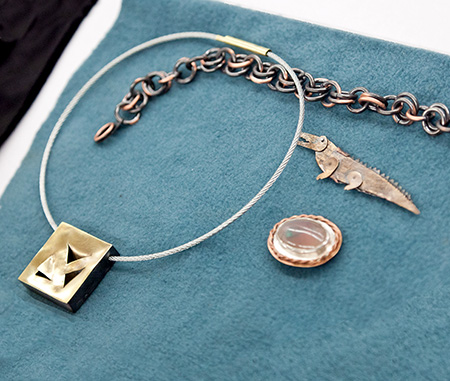 Online Certificate: Courses in this certificate are delivered completely online.
Note: This certificate program is no longer taking new applications.
Jewelry making is a mix of handmade, craft-based processes used to create unique wearable objects and advanced 3D technology used to create work that can be scaled for production. Combining technical skills with creative and conceptual thinking, the Jewelry Making + Design certificate provides a solid introduction to and foundation for designing and making jewelry, wearables and accessories. The certificate core introduces students to the critical skills of drawing, rendering and design in preparation for working three-dimensionally. With assignments and opportunities that explore the technical, aesthetic and conceptual aspects of this contemporary craft, students develop their own aesthetic approach that's compelling and original.
In this certificate program students will be guided, step by step, on how to safely set up their own jewelry studio. There is approximately $700 in one-time costs to set up a soldering station and acquire necessary tools. These costs are in addition to any materials used to make jewelry. By the end of the program, you will be making portfolio-ready work, and have a strong platform for industry-based internships or small business development.
Certificate Guide and Cost Breakdown (pdf)
Skills
Drawing, rendering, and design skills used to develop concepts for jewelry making
Soldering, sawing, piercing, annealing, soldering, texturing, ring sizing, hinge making, advanced scoring, bending and other fabrication methods
Construction methods including hollow form, cold connections, wire and chain making
Processes and practices relevant to the industry
3D modeling using Rhino
Learning Outcomes
Upon completion of the certificate students will be able to:
Design and fabricate jewelry and wearables, from initial conception to finished realization
Create unique handmade items
Use advanced 3D technology to create work that can be scaled for production
Work with a variety of materials including non-precious and precious metal
Build a portfolio in support of career opportunities in jewelry
Program Cost
$7,960 total
Current tuition rates; subject to change over the course of your program. Supplies, software subscription fees and other materials are not included.