9022
-
Interior Design Studio II: Public Spaces (Part B)
2134606
Course Description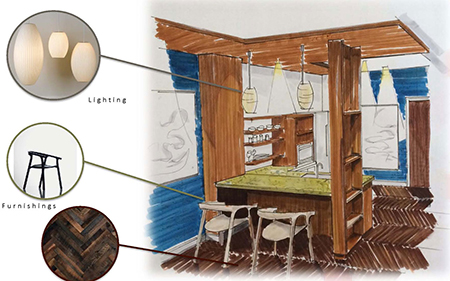 Design by Michael Camara
This course takes on the larger implications and complexity of designing public spaces. You will apply knowledge of planning for public spaces and work on a range of projects such as offices, retail outlets, hotels and healthcare facilities. Projects will include typical design constraints like parking, budgets, audience, and taste that come together to inform a design brief and create opportunities for the designer. This workflow is examined and shared for critique as you research, measure, draw, propose and plan in order to deliver a personal design concept that reimagines our shared spaces. This is part two of a two-part course.
Prerequisites
Students must be an adult age 18 or older to participate.
Applies Towards the Following Certificates
Required fields are indicated by .